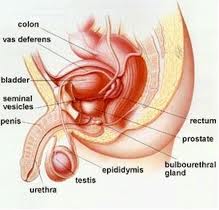 Anatomy: The prostate is a gland of the male reproductive system that is located in front of the rectum and just below the bladder. The prostate is small and weighs about 15 to 25 grams. It is about the same size and shape as a walnut. The prostate is wrapped around a tube called the urethra, which carries urine from the bladder out through the tip of the penis.
The prostate is made up largely of muscular and glandular tissues. Its
main function is to produce fluid for semen, which transports sperm. During the male orgasm (climax), muscular contractions squeeze the prostate's fluid into the urethra. Sperm, which are produced in the testicles, are also propelled into the urethra during orgasm. The sperm-containing semen leaves the penis during ejaculation.
Pathophysiology: Although not technically part of the urinary system, the prostate gland is important to the urinary health. That's because the prostate surrounds the top portion of the tube that carries urine from the bladder (the urethra). Normally, the location of the prostate gland isn't a problem. But infection or inflammation can cause the gland to swell, squeezing the urethra and affecting the ability to urinate. That's exactly what happens in prostatitis, although the cause of the inflammation depends on the type of prostatitis.